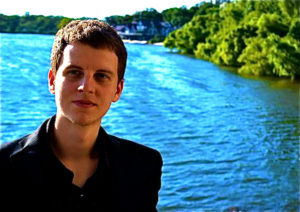 Julian Hartwell is a sought-after pianist, composer, bandleader, and educator living and working in Germantown and the surrounding Philly area. Although most rooted in jazz, he is influenced by many genres such as funk, soul, hip-hop, and RnB that all contribute to his distinctive sound.
Career highlights so far include sharing the stage with major names Christian McBride, Jimmy Heath, and Jon Faddis at Lincoln Center with the Temple University Jazz Band.  In addition he has appeared  with the latter two musicians on that band's release from Spring 2015 entitled "Dear Dizzy: A Tribute to Dizzy Gillespie."
Julian's full skill-set as a composer, arranger, and pianist in his own right are most evident on his band's all-original debut album "The Julian Hartwell Project," which released to critical acclaim in October of 2015. He continues to hone his talents as a sideman and leader with The JHP and the Julian Hartwell Trio, as well as explore a more nuanced approach with a growing repertoire of neo-classical compositions for solo piano.
Connection to Germantown: Julian has been living in Germantown for a year+ and has no intentions of leaving anytime soon, continuously inspired by the artistic community he finds here and the connections he makes. He teaches and works often from his home studio and lends his hand to community ventures like the recently founded Pastorious Community Garden, among others.
Website: www.julianhartwellmusic.com
Facebook: www.facebook.com/julianhartwellmusic
Twitter handle: jewelz_hartwell
Also see: www.reverbnation.com/julianhartwell
Contact: julianhartwellmusic@gmail.com